Home &nbsp Back &nbsp


---
This page is translated from the original by using the Google translator.

Ultrasonic v.1.00 &nbsp (Free Soft)
Program for working with ultrasonic sensors from Pepperl + Fuchs &nbsp
You can download the following files:
Program Ultrasonic v.1.00 &nbsp Download &nbsp Size: 1430 kb.
&nbsp &nbsp It is changed 03.12.2010 add support Vista/W7
§1 Description:
The program is designed for the survey ultrasonic sensor type: Ultrasonic UB1000 FirmsPepperl+Fuchs.
§2 Description of Ultrasonic v.1.00
Features:
displays the absolute distance from the object to ultrasonic sensor
allows you to enter and execute commands to configure the ultrasonic sensors
Fig.1 program window Ultrasonic v.1.00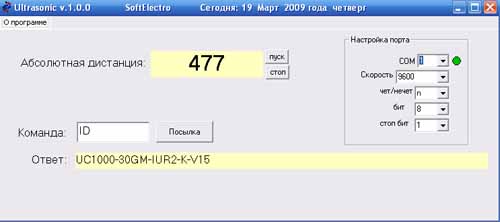 The program is used to adjust the ultrasonic sensor distance. When you click on the Start button, the program starts cyclical interrogation sensor output result on the screen. It displays the absolute distance to the object. Command line allows you to execute any command provided for specific sensors and display the answer to this command on the screen. Please note that not all commands provide the answer.
Команды посылаемые в датчик представляют собой символьное имя с параметрами. Например:
ID - In response, sensor type
IDD - In response, the date of manufacture
VS0 = 1200 - entry into the sensor speed of sound in cm / sec
&nbsp DTM UB300-18GM75A-3E5R-V15-Y192007 &nbsp - description of the system commands sensor.
The default setting of COM port (for example, UB300-18GM):
data rate: 2800
8 bit
1 stop bit
no parity
---
Back&nbsp Home &nbsp