Home &nbsp Back &nbsp


---
This page is translated from the original by using the Google translator.

ComPort (Free Soft)
Programs simultaneously with four COM ports on the computer.
You can download the following files:
ComPort v.1.1 &nbsp download &nbsp&nbsp Size: 1438 kb
02.12.2010 (Support OS Vista\W7)
Manual ComPort v.1.1 &nbsp download &nbsp&nbsp Size: 34 kb
§1 Summary
Program visualization of COM-ports of a PC. Simultaneous with four COM-ports. Setting up the mapping of signals on the contacts COM-port in real time. Intermittent receiving and sending data.
System requirements:
unlimited
OS 2000/XP/Vista
Not required
§2 Program Description ComPort v.1.1
The program allows ComPort:
Configure ports COM1-COM4;
Send and receive one-time sending them through the selected ports;
Transmit and receive circular parcel with a given interval of time;
Visually displays the status of lines on the connector COM port;
Display and change the port settings;
Figure 1 Screenshot of ComPort v.1.1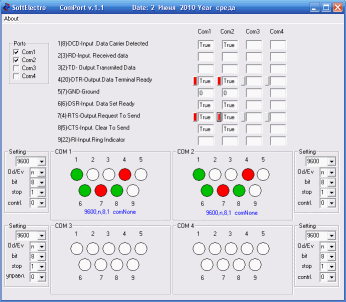 Description:
Ports COM1-COM4 selected the switch.
Each port has independent settings.
On the screen in text boxes displayed signals of all lines selected ports. Service signals displayed state True / False. Turn on / off output signals DTR and RTS the buttons, button color changes to red when you turn on the signal.
In the graphics window active output signals DTR and RTS are shown in red (the signals in a position to True). Active input signals DCD, DSR, CTS, RI (condition True) is green
Data signal reception / transmission is displayed in text boxes in the form of symbols.
The sequence of characters, recorded in the window TD, will be cyclically transmitted through the specified COM-port.
In the RD will display the data obtained through the RD to the specified COM-port.
Polling interval of 300 ms (about 3 times per second)
In the headers show signal names and pin numbers for 9 (25) pin connector.
The program is designed to determine the functional state of the COM ports, visualization of the processes occurring at the contacts between COM-port. It is easy to verify that the ports and install a set value ports.
---
Back &nbsp Home &nbsp